Smith's Inspiring Donations
Do you shop at Smith's?
Smith's Inspiring Donations will donate 0.5% of all eligible spending to organizations that customers have linked to their Rewards Card — at no added cost to you!
A digital account is needed to participate in Smith's Inspiring Donations. If you already have a digital account, simply link your Shopper's Card to your account so that all transactions apply toward the organization you choose.
To register for a digital account and link your card to the Carson Valley Trails Association, please visit their website at:
https://www.smithsfoodanddrug.com/i/community/smiths-inspiring-donations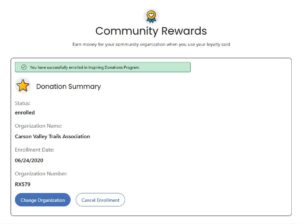 Help CVTA Get Credit From Your Amazon Purchases
You can now designate the Carson Valley Trails Association to receive a donation from the AmazonSmile Foundation whenever you make a purchase through Amazon, and designate CVTA to receive donations.
AmazonSmile is a website operated by Amazon with the same products, prices, and shopping features as Amazon.com. The difference is that when you shop on AmazonSmile, the AmazonSmile Foundation will donate 0.5% of the purchase price of eligible products to the Carson Valley Trails Association.
Click here for more information about the Amazon Smile program.
It's as easy as shopping at amazon.com.  Just follow these easy steps:
Go to https://smile.amazon.com/ and log in with your normal Amazon user ID and password. You should bookmark this website for your future convenience.
The first time you log in to Amazon Smile you will be asked to select a charitable organization. Search for Carson Valley Trails Association:
The header on your Amazon page should say "Carson Valley Trails Association"
Search for the Amazon products you want. Look for products which say "Eligible for amazonsmile donation" in their description:
Then just continue as usual to complete your Amazon purchase.  Amazon will contribute a portion of the purchase price to CVTA!
Please tell your friends and family so they can participate also.
Your support helps CVTA to keep the trails you love maintained and available for you to enjoy. Thank you for your past and future participation.