Member's Only Event: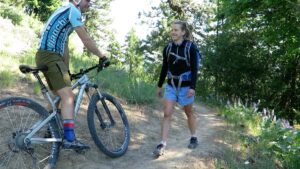 MEMBERS, whether you are interested in learning to mountain bike or simply want to improve your basic skills, please join CVTA for an introductory mountain biking course while exploring the new Indian Hills section of the Clear Creek Trail. Mentors will be available to offer guidance on biking techniques, safety, and trail etiquette. A box lunch will be provided to participants compliments of our friends at Bike Habitat.
Not already a member?  JOIN TODAY
DATE: Sunday, June 12, 2022 (Rain date June 19)
TIME: 8:00 am – 11:00 am
PLACE: Meet at the Clear Creek Trailhead
HOW TO REGISTER before June 7: For more information or to sign-up, send your complete name, email and phone number to Lee Elson, email: [email protected]
Participants must bring a non-motorized mountain bike and helmet!